A Chinese-owned shop selling cheap household goods at the centre of a dispute in Kenya has reopened after a counterfeit complaint against it was dismissed. The row got to the heart of a debate about whether this kind of outlet hurts or helps Kenyans.


Blowing whistles and vuvuzelas, Kenyan petty traders marched in their hundreds to the deputy president's office in Nairobi to demand an end to what they called a "China invasion".
The China Square shop that had become a hit with consumers because of its cheap goods was the focus of their anger. Its rapid success had rekindled long-held fears about competition from abroad.
The shop, which is in a mall on the outskirts of Nairobi, had already shut its doors, albeit temporarily, by the time of last week's protest as controversy swirled around it.
Barely five weeks into trading, it had become a social media phenomenon. Its low prices compared to what the petty traders were charging and convenient location made it very attractive.
But some small-scale traders, who form a vital part of Kenya's economy, began to notice business dropping off.
"We want the Chinese out of Kenya. If the Chinese become the manufacturers, distributors, retailers and even hawkers, where will Kenyans go?" an unnamed trader told journalists at the protest.
Peter Sitati, who imports and sells beauty equipment in Nairobi, was one of those at the demonstration.
He says a plastic pedicure stool that costs around $43 (£35) in his shop, retailed at China Square for about $21, effectively undercutting him by more than 50%.
"Many Kenyan businesses are going to close their shops and our economy will collapse," Mr Sitati argued.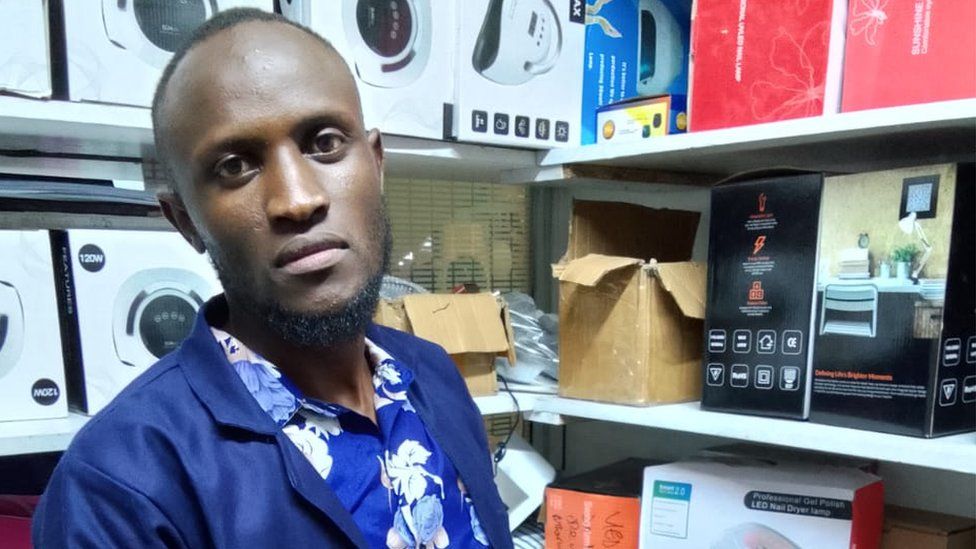 Pressed to explain why he was charging so much more, he said he was covering the taxes and duty he was charged and thought that he might be buying the goods from China at a higher price than China Square.
Despite being asked by the BBC, China Square did not explain how it set its prices, but it might be benefitting from being able to buy in bigger quantities.
It may also have a more direct relationship with the manufacturers. A lot of the smaller Kenyan traders have to go through middle men and may be charged more as a result.
China Square founder Lei Cheng insisted he had done nothing wrong.
"My business is legal and is centred on healthy competition. We have cooperated with all government directives of opening a business in Kenya and we are here to break the monopoly," Mr Lei said.
He added that his business took more than $157,000 in its first two weeks.
"The people who are fighting us feel threatened because Kenyans now know we exist and we are not exploiting them in pricing."
'Quality goods, affordable prices'
Some Kenyan shoppers are on the retailer's side.
"China Square should be allowed to operate. They're selling quality goods at affordable prices," Sharon Wanjiku said.
"The cost of living is very high at the moment and these prices are exactly what we need."
The swift popularity of the shop followed by the controversy caught the attention of the government, with one minister saying it should cease operating as a retailer.
"We welcome Chinese investors to Kenya but as manufacturers not traders," Trade Minister Moses Kuria said on Twitter on the Friday before China Square shut down.
It remains unclear why the shop did close its doors to customers. There were suspicions that it had been put under some pressure by the authorities.
A statement from China Square said it was closing to "re-evaluate and replan our company strategy" and that it was "considering a possibility of co-operating with local traders".
But at the end of last week, Kenya's Anti-Counterfeit Authority said it had investigated a complaint that China Square was selling fake goods but had found no evidence that that was the case.
On Monday, the Kenya Chinese Chamber of Commerce (KCCC) welcomed the re-opening of China Square after discussions were held with the government, however it did not go into details of what the talks were about.
"The Chamber looks forward to an equal and fair treatment of all businesses across [the] board to ensure a conducive business environment for all," the KCCC statement said, but it did not say if any new agreement had been made.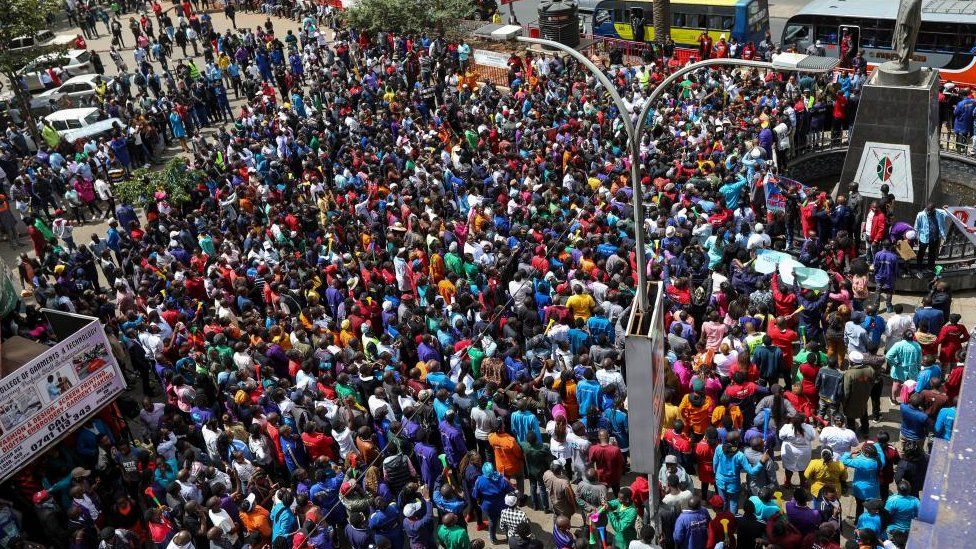 Some fear that the row over the shop has sent out the wrong message about the economy and the interest in investment.
Korir SingOei, from the ministry of foreign affairs, has been seeking to reassure potential investors, saying that Kenya welcomes money from outside and does not discriminate where it comes from.
Wu Peng, the top diplomat for Africa at China's Foreign Ministry, was pleased with the clarification and said a "non-discriminatory investment environment is vital to the healthy development of bilateral practical co-operation".
Kenya has in the past struggled to find a middle ground between attracting foreign investment and promoting free trade while protecting local traders from what some see as unfair competition.
"Stopping foreigners from doing legitimate business in Kenya is retrogressive. We need to see how to build the capacity of Kenyans to be able to produce competitive products," says Kenyan economist Gerrishon Ikiara.
The Kenya Investment Promotion Act, which sets conditions for foreign investors, requires an investment to be beneficial to the country through things such as new jobs, the transfer of new skills or technology, or the use of local raw materials or services.
There is no data available to show how many Chinese traders or people are in Kenya, but there has been growing anti-Chinese sentiment in recent years. This has been partly due to allegations that individual Chinese people in Kenya have been racist, as well as fears of Chinese traders taking businesses and jobs from Kenyans.
In 2019, the Kenyan authorities deported seven Chinese nationals who had been operating in two markets in Nairobi, accusing them of not having work permits and saying they could not operate in a sector that had been reserved for locals.
In 2020, four Chinese men were deported after being accused of caning a Kenyan man working at a Chinese restaurant.
President William Ruto has so far steered clear of the matter, but ahead of his election last year he promised to deport Chinese nationals engaging in business that can be done by Kenyans.
"We have agreements with different countries on what level of business or work is to be done by locals and which one is allowed, where one must have [a] work permit, to foreigners. And that level is not selling in kiosks, retail or roasting maize," Mr Ruto said last June.
China Square is clearly not working out of a kiosk, but its re-opening continues to present a challenge to the petty traders, whose complaints have not gone away.
Source: BBC News